We have been spoiled by the convenience of the Internet. The modern online search user is hungrier for information but less likely to wait for it. Knowledge panels are Google's answer to the impatience and short attention span of today's search users.
The knowledge panel is a column displayed on certain Google search engine result pages (SERPs) that summarizes the pertinent information regarding the search. Knowledge panels are generally only triggered by notable entities, which can be vaguely classified to encompass people, places, organizations, and things.
Just as there are numerous entities, there are multiple kinds of knowledge panels to suit them. Google has customized a way to display the basic information for businesses, celebrities, television programs, fruits and vegetables, and even popular definitions. All this just to provide a better browsing experience for their users.
This may be purely correlative, but the latest research showed that two-thirds of Google searches in 2020 ended without a click. Search engine experts think that this means most Google users obtained the information that they required from the SERP page itself, most likely from the knowledge panel.
Advantages of a Knowledge Panel
Visibility and Authority
The knowledge panel is a mark of recognition, even a status symbol of sorts. Because the almighty Google alone can decide whether you or your business warrants a knowledge panel, being bestowed with one is a sign of your significance.
On desktop, the knowledge panel occupies a large chunk of space on the right-hand side of the screen and is set apart with a gaze-drawing frame. On mobile, it is displayed at the top of the SERP, before any other result. The enhanced visibility of the knowledge panel ensures that your brand stands out in the search results and establishes your authority and industry position.
For businesses, the company logo is displayed conspicuously, adding to the recognition of your brand image. Sometimes, potential clients merely want to check that your brand is as reputable as it seems, and the concise information on the knowledge panel is enough to convince them.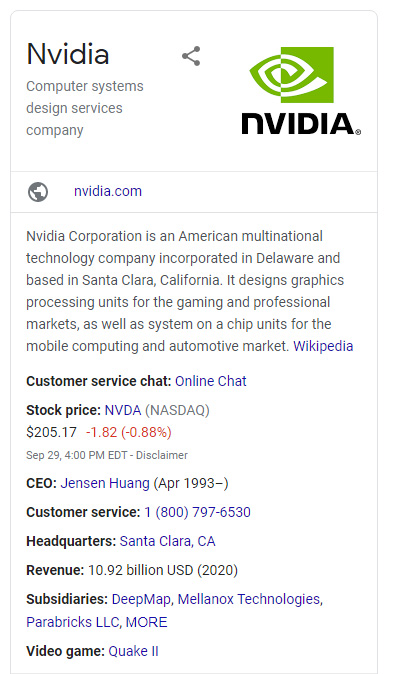 Leads for Your Website
As Google relies on a variety of reputable information sources to generate a knowledge panel, having one is a sign that your off-site SEO efforts are working well. Knowledge panels themselves perform a valuable job for SEO. They are extremely helpful when a search for your brand generates multiple top results from sites that are not under your influence.
The knowledge panel catches the attention of users and directs them quickly to the official brand website as well as its social media accounts, capturing more leads and visitors for your online assets. A user who searches for your brand could be a potential client or business connection.
Therefore, it is essential to ensure that the information presented on the search truly represents your brand. By managing your knowledge panel, you can display accurate and positive information to the public. 
The Future of Voice Searches
On a side note, knowledge panels are becoming increasingly important for voice searches. When users initiate voice queries, voice search generally returns information from knowledge panel summaries, if they are available. With 58 percent of consumers relying on voice commands to contact local businesses and 55 percent of households projected to own smart speaker devices by 2022, there is undeniable benefit in being well represented on voice search.
Getting a Knowledge Panel
There are two types of knowledge panels on Google. The brand panel is for entities (individuals or brands) that are not necessarily geographically relevant, meaning that people from all around the globe may search for your information. The local panel is usually limited to brands and only appears when somebody in your geographical area searches for your details.
Claiming a Brand Panel
Let us start with the best-case scenario. Google has decided that your business is recognizable enough to justify a brand panel and has already created one for you with information aggregated from its various sources.
In this case, look for the 'Claim this knowledge panel' button, which will take you to the Google verification page. Once there, you can verify that you are an authorized representative of the entity by signing in to one of the social profiles or Search Console control panels listed.
For some smaller brands (or entities with poor SEO), there is a chance that Google has not discovered your official social media accounts or Search Console presence yet. If this happens, you will need to prove your association with the entity through a manual verification process.
A lot more information will have to be submitted, including providing a government-issued ID, various screenshots, and proof of legal relationship with the entity. The information will then be vetted by an actual human at Google, who will reply to you in a day or two to approve or deny your application. 
Getting a New Brand Panel: Google Knowledge Graph
It would be safe to say that most small businesses and brands will not have an existing brand panel to claim. This is not unusual. It just means that your business does not have enough supporting information to convince Google that it deserves one.
To remedy this, we need to boost your online presence on the Google Knowledge Graph. The Knowledge Graph is Google's unique way of connecting information. It is an advanced knowledge database that does not merely collect data from numerous sources but also analyzes and links different snippets of information to create the intelligent search results that are seen on knowledge panels. 
Wikipedia
If you have seen your share of knowledge panels, you may have noticed that Wikipedia is frequently cited. According to statistics, Wikipedia is cited in 61.38 percent of all brand knowledge panels in the United States. Given its extensive reach and exceptional domain authority, Wikipedia is already known for ranking in the top three of most Google SERPs.
Having a Wikipedia page is similarly a signal to Google that your brand is worth noting and one of the surefire ways to trigger a knowledge panel. However, the process of getting your brand a Wikipedia page can be extremely complicated and time-consuming.
In addition, Wikipedia pages are open to contributor edits and liable to deletion by admins. Hence, while it is a nice thing to have, it is definitely not the only thing you should bank on.
Wikidata
Another way to bolster your presence on the Knowledge Graph is to create a Wikidata page. Wikidata is a structured data depositary that forms the foundation of Wikimedia projects including Wikipedia. Just like Wikipedia, anyone is allowed to create a Wikidata account and add or edit items.
However, just like Wikipedia, Wikidata contributions are subject to revision by editors, although they are comparatively less strict here. Being structure-based, Wikidata is slightly more unnatural for non-developers to edit, so it might take a while for new contributors to get a hang of things.
That said, Wikidata is a powerful tool for SEO, especially since it is the sole structural information database after the demise of competitor Freebase in 2016.
Including schema markup is the third, and most organic, way of adding to the Knowledge Graph. Schema is a structured data language that is added to your web pages to help Google understand the details of your brand.
By including schema markup in key pages on your website, you can indicate to Google your company name, company type, official website, address, social media accounts, and more. This helps Google to confirm that their data about you is accurate and adds to the collection of information that corroborates your profile.
While adding schema markup to your website may not result in a knowledge panel appearance as quickly as having a Wikipedia or Wikidata page might, it is the only option that allows you full control of the content that appears in the knowledge panel. 
Getting a New Local Panel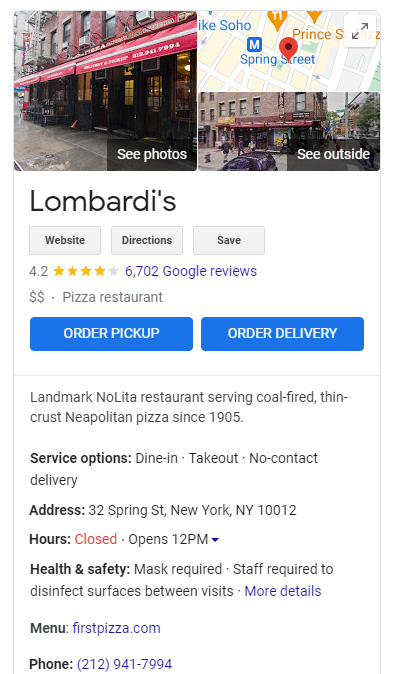 Compared to securing a brand panel, getting a local panel is much easier. You simply have to create a Google My Business account. While creating your account, you will be asked to fill in basic information such as company name, contact details, hours of operation, business category, and a short description.
You can also upload your logo and promotional photographs. Over time, your Google My Business profile panel may expand to show supplementary information such as questions and answers and user review scores.
A Google My Business listing is free, and it automatically adds your business to Google Maps search results as well. Now, although a Google My Business profile panel is not a knowledge panel per se, Google uses the information from your Google My Business profile when it displays your brand as a local panel.
Therefore, having a Google My Business profile increases the chance of appearing on a local panel.
Leave it to the Professionals
Searching on Google is easy but trying to make Google give you what you want in terms of SEO is famously difficult. And rightfully so. Otherwise, every Tom, Dick, and Harry would be at the top of SERPs and defacing the value of knowledge panels.
Getting a knowledge panel for yourself or your business takes a good amount of research and hard work. If you want to keep up with Google's latest feature but are daunted by the complicated process, a good digital marketing agency can help.
By letting experts guide your brand into Google's good books, you have a better chance of being featured in a nifty knowledge panel and standing out from the crowd.
If you need help building a Google Knowledge Panel for yourself or your brand, please reach out to our team.